| | | |
| --- | --- | --- |
| Miradieu at Messiah Agriculture Project. | Joe, Yvette, Fito, Donna, Leopold, and Fidelin in the courtyard at Yvette's. | In a surprise ceremony, Dula and Beatrice presented Connie with flowers and a commemorative plaque. |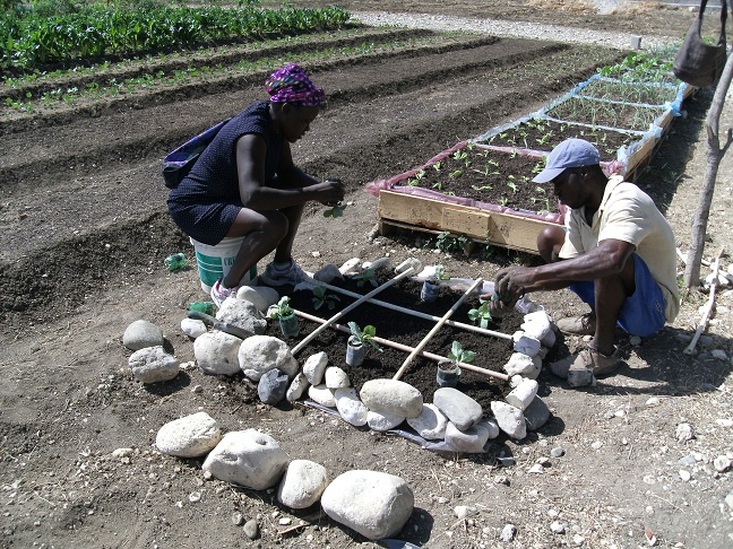 Planting in the box with Dula. Pictured below is the box preparation, and then Dula and McKandy plant down the middle where the future trellis system will go in.
Trustees: Connie & Pat Lahr, Donna Rothstein, Fritz Ibs, Darlene Kempenich
Auditor: Bob Sorenson

Please remit your gift today to:
GARDENING WORLD WIDE 501c3
4936 54th Street NW
Maple Lake, MN 55358


GARDENING WORLD WIDE 501c3 presents:

August 2014
Greetings Friends:
Changes are happening in 2014! After 23 years of hosting the Mini-Market in Maple Lake, we will not have a Mini-Market this September. When in Haiti this past January, each of four garden leaders whom we support, received notice of the future funds available to them for gardening purposes. Should they choose to use the funds strictly for monthly promotions as in the past, the money could last for 2-3 years. However, should they elect to use the funds to aid them in their work, such as construction of Wilky's cistern, the money would be gone sooner.
When setting this up I did not give consideration to the Christmas gift, which, in Haiti is suggested as an extra month's wage. Your gift today will help generate $1400 to be sent to Haiti in early December. Yvette and Dula are both at $300 a month and Wilky and Celi
don are at $400 a month. I have been distributing funds bi-monthly in the past years and will continue to do so, asking for monthly reports of progress in return for the gift.
This arrangement with Yvette, Dula, Wilky, and Celidon, also removes the idea of a trip to Haiti every two years; however, should you wish to go, I will gladly serve as your tour guide and be most excited to see our friends again!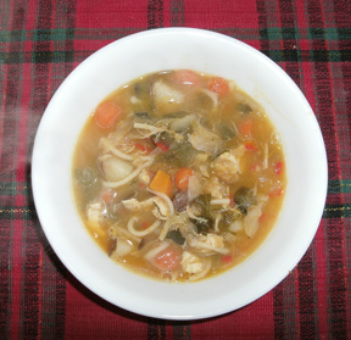 A large recipe, adjust for your needs.
C
hop, cube the ingredients:
4 cups water
1 lb. Beef
1 lb. Chicken
1 lb. Cabbage
2 lb. Pumpkin or Squash, pureed

1 onion
3 turnips
3 carrots
celery
1 hot pepper
6 potatoes
1 tbsp. Lemon juice
3 cloves or ¼ tsp. Allspice
For a cream soup, puree all ingredients.
Continue cooking, add vermicelli and cook for 7 minutes.
---
Five Garden Grants awarded in 2012

This year, Gardening World Wide supported five grants, bringing bountiful gifts to students, families, and communities.


Grant # 1 Elk River MN WHAT:
4-H Garden Project in the second year; Community Garden at Zimmerman Church in first year
WHO:
19 families in the 4-H Project in 2011, 9 new families in 2012: 5 new gardeners, 3 returning; at the Zimmerman Church, one family included a Boy Scout Project.
GOAL
: To promote organic vegetable gardening in our area by introducing and teaching the the skills of the SFG method.
ACTIVITY:
March 27: Introductory gathering at Sherburne County Government Center: a room full of people with Pat and Connie presenting, along with a sign-up for SFG kits and purchase of books with encouragement to review for next gathering.
April 10: Demonstration at the garden site on County Road 32. "We had 12 family units attend, people of all ages, kids and adults joined in on this "hands on" demonstration of soil mixing, inclusion of worm castings, and rain water collection, selling the remaining 2 rain barrels from 2011." ~ Mary Lou Gillette, Promoter
April 26: Planting at the demonstration site and discussion on plant selection.
May 22: Visit Lahr gardens in Maple Lake
Continuous gardening throughout the summer.
Grant #2: St. Michael MN Fieldstone Elementary SchoolWHAT:
Incorporation of Square Foot Gardening in school curriculum beginning in 2011 with the set-up of 4 SFG beds and continuation in 2012.
WHO:
Elementary children in first, second and third grade and adding high school science classes in 2012.
GOAL:
The Fieldstone garden project will nurture community spirit, common purpose, and cultural appreciation by building bridges among students, school staff, families, local business, and organizations as a powerful environmental education tool.
BENEFITS OF A SCHOOL GARDEN:
First, students get to take what they are learning in the classroom and apply it to real-life, hands-on situations. It also helps to promote responsibility and the feeling of belonging to a community. Students feel more connected to their school and peers when they are working towards a common goal, like working together to maintain the garden. Finally, students get to see how plants grow and the different forms they take while growing. From this students realize where and how the produce they find in the grocery store grows. This comparing helps students have a more worldly view of where food comes from.
COMMENTS in June 2012:
"The garden has been doing great! One of our special education paraprofessionals took lead this spring with planting and getting kids involved! One thing that we learned from last year was the importance of doing early season crops so kids could be involved in the harvesting process. It was cool seeing the kids getting engaged and being so involved. I also heard a number of different stories of how the kids chose to write about their involvement!" ~ Scott Graham, Instructor
Grant #3 Rockford MN RiverWorks Community Development WHAT:
Funds for seed money, Home Gardens and Community Garden
WHO:
• Food shelf clients were eligible for the $25 seed money grant from which most people bought tomato plants, cucumbers and pumpkins. •Square Foot Gardens were open to anyone in the community and 9 were awarded. •Good Earth Community Garden at Our Father's Lutheran Church received a water tank, desperately needed for the gardens.
GOAL:
RiverWorks aligns and mobilizes community resources to deliver powerful solutions which meet the emotional, physical, relational and spiritual needs of people connected to the Rockford/Greenfield area.
COMMENT:
"I know the grants have made people so excited about gardening." ~ Denise Kesanen, Executive Director

Grant #4 Clearwater MN St. Lukes's Church Community Garden
WHAT:
Three boxes, 4' x 8' in size built on the church grounds of St. Luke's. Of these, one is planted with peppers, a favorite of the Pastor. Lettuce, radish, rhubarb, strawberries and peas have been harvested. Two other boxes were open at the time of this writing for later plantings.
WHO:
Four gardeners from the first year are continuing at their homes and this year 5 more were added for a total of 9 families. Broccoli, cauliflower, Queensland lettuce, cilantro, tomatoes, peppers and seeds for all gardeners were shared.
ACTIVITY:
In May, children in the religion class potted lettuce to give to their mothers on Mother's Day.
COMMENT: "
A special problem in this location is with the gophers! I worked up the soil and noticed that there was a gopher hole in one side. I plugged the hole with a plastic bag and filled it up. The last time checked, the gopher hadn't gone through the garden box." ~ Sharon Rassier, Promoter
Grant #5 Family GardensWHAT:
Two family gardens were awarded this year, providing soil mix and all garden supports for Square Foot Gardens. One is a 4' x 8' in Howard Lake and another is two 4'x 4's in Annandale from Gardening World Wide funds with assistance from Pat and Connie Lahr.
ACTIVITY:
The families came to mix and receive the soil and boxes in May, then to take and set up at their homes. Follow-up support was provided in the form of plants and seeds and direct assistance in setting up the gardens.
COMMENT:
As beginning gardeners, both families were extremely happy to receive this support and are very excited about the growth in their gardens.
In total, Gardening World Wide supported:
47 households or programs received a soil mix of 8cf per 4' x4' garden
34 new gardeners who joined as a result of the Community Education Classes, with more than 60 persons attending 7 offerings surrounding Maple Lake
13 gardeners from past seasons
85 units of soil mix were distributed, mixing 2 at a time at the greenhouse:
17 families received 1 unit
23 families took 2 units
3 families received 3 units
2 families took 4 units
1 family took 5 units
3 units remained for personal use at Irish Blessings garden and Maple Lake Elementary
80 All New SQUARE FOOT GARDENING Books were purchased:
22 books remain with a balance due of $50. (sold at $15@ as opposed to bookstore price of $19.95+tax) Mel gave 40 of the 1981 First Edition of SFG to offer for an extra $5 when buying the All New for $15 and this added $200 to the fund.
Maple Lake Elementary SCHOOL: 9 Wednesday mornings April/May, working with 3 groups of First Graders, 4 square units in the garden; 4 Wednesday mornings during Summer Academy
GARDEN VISITS were made throughout the summer
MONTHLY evening tours throughout the summer, with a special planting date in June
IT WAS A JOY TO WORK WITH EACH AND EVERY ONE! Thank You.
Gardening World Wide offers grants to local family gardeners

We support gardening in the community! Grants are available for local gardeners who are interested in exploring square foot gardening. To apply for a grant, submit the following information: