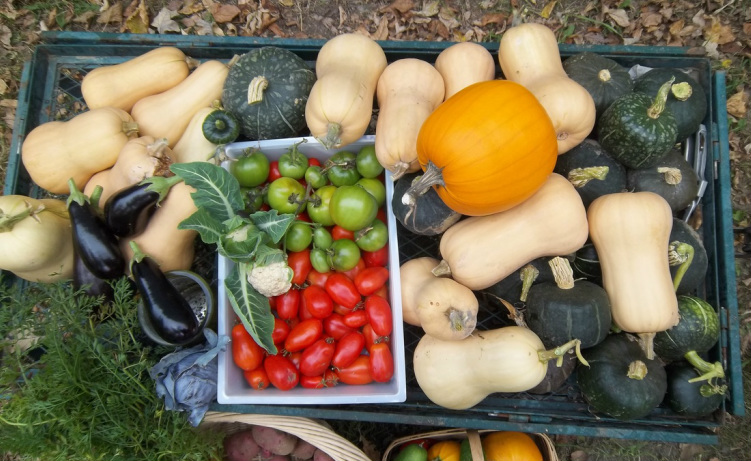 Enjoy the harvest!


We gathered on Oct. 15, 2012, to celebrate the harvest. Here are a few of the recipes we enjoyed:


Squash Soup


2-3 lb. squash, chopped

1 medium onion

Co

ok in 6 cups of chicken stock.

Puree, season with nutmeg, salt and fresh pepper. Delicious! Enjoy!

Garlic Soup


Great to STOP a COLD coming on! This recipe comes from a media source and if you have 13 garlic cloves, give it a try!

2 cups chicken chicken broth

13 cloves garlic

Cook cloves in broth, puree

and serve over your favorite toast topped with cheese.

Oven-Browned Potatoes


Clean, leave skin on, and cut large potatoes into French Fry strips. Butter the base of your baking pan and place potato strips in the pan. Bake at 415 degrees for 15 minutes, then to 350 degrees, turn the potato strips over ½ way through baking time for a total of 50-60 minutes. Fantastic!

---

Local Gardens on Tour


Garlic planting takes place mid-October


Terry Wise is amazed at the length of the garlic stalk. Eight cloves from this elephant garlic were planted into her small 2'x10' trellised lakeside garden.

Pat displays the type of bulb planter he likes to use as Terry holds the bulbs that will be planted and watered on this beautiful October day.



---

Bob Schick shows the vegetable boxes he built surrounded with flowers. Pat and Bob planted one square of garlic for Donna's garden.

---

---

Awesome August gardens!


St. Michael

, MN


This is the 2011 garden of Deb Prillaman; in 2012, Deb doubled the size of her garden, now four 4'x4' beds that are nicely mulched. Note the pumpkin, squash, sweet corn and two trellis systems in place.

---

Taking a closer look at yellow squash. The sweet corn looks good!



St. Michael, MN


The youth of the Thunder Bay group in St. Michael, MN, now have lattice trim up for their trellis system. Cucumbers and vine crops are taking advantage of it, along with radish and carrot and more vines in the front part of the garden.



---

Buffalo, MN


St. Francis Xavier School, Buffalo, MN, has two 4'x8' beds near their Mary statue in a sheltered part of the building. The vegetables were nicely marked for all to see.

---

Clearwater, MN




Rejoice Lutheran Church in Clearwater, MN, has had a Community Garden for several years for the families with extras for the food shelf and to sell. We noted a bountiful crop of muskmelon and eggplant along with a total variety of vegetables. Hair poles keep the deer away.

August 26, 2012: Sweet Potato vines are getting dry at the Community Garden at Rejoice Lutheran Church in Clearwater. Sunflowers grow tall!



Maple Lake, MN


Linda and Dan Smith moved to Maple Lake, MN, this past March. With two 4'x4' gardens and a tomato tower garden in place, Linda plans to add more squares in 2013. Her garden will grow into a 'showcase' for the neighboring homeowners, as it is in a developing area of town.



---

The tomato tower did not produce this season, although the soil mix was 6-8 inches deep. A 4'x4' weed mat came with the kit. Linda doubled the material for the 2'x4' garden — perhaps it did not get enough air from the base? Or, perhaps it was due to the tomato variety?

---

On Monday, August 20, we toured gardens in Lori Schmitt's Hanover, MN, neighborhood. Lori is a landscape artist, integrating produce among the flower bed as you can see by the growing melon that Pat is holding. Lori, Marcia, Linda, and Connie are also shown in front of Lori's house.

---

A neighbor of Lori's built two 4'x8' gardens which are extremely productive with only one foot wide patio bricks down the center. The bean tower is taller than us, by at least two feet, and is a double frame extending to the top. The beans, tomatoes, vine crops and onions looked great! Peggy, in the middle, is also shown in this picture.

---

This is a view of Lori's square gardens in the back of her home. The two bean towers were heavy and loaded, with one crashing down a week or so before our visit. In the front, Lori has husk ground cherries, which brought back fond childhood memories for many of us, as that seemed to be a feature of many gardens 'years ago.' Lori started building her beds 5 years ago after taking a Square Foot class and has discovered that the weed mat surrounding the first beds allows weeds to go through. She is also using a barrel composter this year for the first time. We look forward to hearing a report on the use of this unit.

---

---

July 16, 2012 - Monticello


At the Monticello Community Garden we met Donna Graham who shared her plot marked off by a length of pvc pipe. Knowing Square Foot Gardening, Donna enriched the soil in a U shape with 4' all around and now enjoys tomatoes that you see in the foreground. This is her first year in the garden and she already has plans for next season. Most plots are 15' x 20' with 31 gardeners on site.

---

Deb Forsberg lives in the housing complex next to the Community Garden and enjoys coming over every evening to water and tend the garden. She outlined her plot with a row of beautiful flowers. Note the kohlrabi crop and onions, both flourishing very nicely. Deb later joined us for the entire garden tour. We were 17 people enjoying gardens on a sunny evening.

---

At the garden of Paul and Vikki Buck, we saw tall corn, trellised beans, and bountiful zucchini which was over-crowding the pepper plants. From the left in the picture: Paul and Vikki Buck, Connie Lahr, Barb Carnes, Linda Smith, Deb Forsberg and Anne Olstad.

---

Laura Spartz added a second 4' x 4' bed this year and has found great success with her garden by lining the base with weed mat. She is a beautiful flower landscape gardener and explained that the entire area was covered in water this spring. Similar to another gardener, the spot seems to be in a moist location with tall trees around, but yet very open to sunshine!



---

---

Bountiful gardens in Maple Lake in July!

Kelly Madrid's 2 box gardens are in Annandale near a cattail ravine surrounded by tall trees, yet open to lots of sunshine. The beans are to the top of the trellis, as are those in the Lahr garden in Maple Lake. Pat has given special attention to this garden setting up a tall trellis system. Kelly and family are truly enjoying the 'fruits' of the garden.

---

Connie Lahr, shown at the Irish Blessings Coffeehouse garden in Maple Lake. In 2012 a cherry tomato plant was requested, producing 3 ripe tomatoes by July 15. This year we are trying a butternut squash next to the tomato, a cucumber and a few green beans. Natalie, the owner, has put it on Facebook.

---

Deb Kutzner, Clearwater Lake, set up 5 garden beds surrounded by a fence and black landscape fabric to discourage weeds. Deb started adding grass clippings as mulch for the vine crops and will finish the area with wood chips. The burlap was wired to the fence to provide a windbreak. Wildflowers are growing on the side of the hill leading to their home.

---

Jan Anderson, north of South Haven, has set up 2 boxes and was happy to receive additional plants to fill the empty spaces. Plastic with lattice wooden grills on top have been laid for ease of maintaining the site. You can already see a vine enjoying the top of this unique system. Again, it seems that zucchinis are bountiful this year!


---

Joel and Joelle Lundin near I-94 & County 8 set up one box garden with only one empty space where radishes grew and this space now has two celery. The tomatoes are just starting up the trellis. In the background, the Lundins have a beautiful bed of asparagus and an area for their vine crops. Joel has ideas for a drip hose under the plastic for next year.

---

Ann Dahl has a bed of vine crops in this enclosed area and a whirly bird to scare off the pests. Surrounding her home are many unique garden containers with a wide variety of growth. Of course, a beautiful purple clematis vining up a trellis next to her home was most enticing!

---

The lawn has just been cut and the sun is beating down hard on the Lahr garden at the lake home. Note all the trellis systems that Pat has developed for vine crops in this 28' bed that has 2 feet of patio blocks laid down between two 4' wide beds on either side. A potato bed outside the 'rabbit fenced' in area has a horizontal trellis topping it off to hold up the plants to full maturity. To date we have enjoyed zucchini, kohlrabi, celery, onions, broccoli, peppers, and soon, lots more!



---

---

July 17, 2012 - Luxemburg


In Luxemburg, we saw two 4' x 8' gardens of the pastor and the box garden of Sr. Marius. This is a first year for her and she said that would she have known of the possibilities of a raised box garden, she would have done it 20 years ago! A Master Gardener has instigated the gardens this year in the parish. Thank you.

---

Tony and Bea Lahr garden in a small plot in front of their home on Hwy 15 in Luxemburg. They are enjoying cucumbers from the vine, first tomatoes and had space to plop in 3 cauliflower. Thank you Tony for keeping up the family tradition of gardening.

---

June 20, 2012 -

Buffalo

, MN


Donna Schlick extended her flower garden to include vegetables and the production is fantastic! Her husband built two boxes, 2 feet wide and 8 feet long and a couple of individual square boxes. A special feature for the grids is to notch the side lumber and simply lay the grid board into it; making it easy to take them out when adding soil next year and/or replace when necessary.



---

Lynn Berning added 4 garden squares to an existing garden. She has lots of lettuce and greens to harvest and soon a zucchini! Lynn's daughter also got started with Square Foot Gardens this year. Lynn is gardening more, including potatoes, as her mother is no longer able to garden.

---

Albertville, MN


Andrea Anderson had four existing beds, 4' x 8' already in place and top soiled them with SFG mix this year. Note the creative trellis system in place. Andrea has the most beautiful cabbage this early in the year, both white and red and has had little worm trouble in past years. We offered a couple protective covers to see how this could help to 'save' the cabbage even better. Andrea hopes to add four more beds next year to feed her family of six.

---

Laurie O'Sullivan has two garden squares. Here you see the innovative square trellis system with peas coming half way up. Son Evan, is not holding it up as it may seem on the photo—it is resting against the deck. Laurie also has a large back yard area mulched for pumpkins to spread and grow.


---

---

On tour June 9, 2012 -


T

wo new Maple Lake gardens

Liz and Mike Dircks, Maple Lake, were on their way Saturday morning, June 9, to participate in a wedding. We caught them for a moment to visit their raised 2' x 8' box garden next to their enclosed back yard where the children play. It is good to see total family involvement in the project, having the garden close to all activity.

---

Judy VanLith, a nearby neighbor to Liz and Mike, has developed a totally gorgeous ornamental yard over the past 12 years, including emphasis on the 4' x 8' vegetable garden this year. A trellis is behind the wishing well to take up the vine crops, a stool to take a break near the garden, and the dog for a friendly companion in this beautiful setting.

---

---

June 6, 2012 Garden Tour -



Pat and Connie Lahr took a late afternoon garden tour on Wednesday, June 6, to visit both new and past year gardeners. They traveled with 2 trays of plants in hand, seeds, and readiness to assist and share. Tomatoes, celery, butternut squash, pumpkin, broccoli, and lettuce were some of the plants made available to the gardeners. (Pat, as photographer, did not get into the pictures.) We are open to weekly garden tours, and may be calling on you soon.



Howard Lake, MN


Sara Minnich, a first-time gardener in Howard Lake, MN, is identifying what she has planted in her 4' x 8' garden bed, along with Lily, her daughter, with shovel in hand, JT, Anna, and Emma, the three she cares for during the day. Everyone helped Connie and Pat place more plants and seeds in the garden.

---

Jeremy and Angela Klein, north of Howard Lake, are second year gardeners. Jeremy has built another solid box to hold more tomatoes this year, along with the 4 built last year—one for each daughter and one for themselves. Well water nearby is sun-warmed in six 5-gallon buckets and we saw beautifully cared for gardens, along for plans to expand into fruit with grape vines climbing.



Vern Nelson and his wife Faye, switched from their 'thistle farm' to square foot garden beds with 6 already in place and plans for 2 more with weed mat below, surrounded by pea gravel. Here Vern is shown with the innovative strawberry tower that he built with ripening strawberries!

---

Maple Lake, MN


Kathy Willey, closer to Maple Lake, MN, is forever expanding her gardens. Note that they all are fenced in and yet, since no top cover, a broccoli was chewed off! That is why you see a raised box garden near the left center of the picture. A wooded area is the back-drop for their back yard and invites lots of guests! Kathy has a daughter involved in the gardens and is a promoter for several years for Square Foot Gardening.



How to Square Foot Garden




Copy arranged by Sharla Peterman based on the All New Square Foot Gardening by Mel Bartholomew.



A) Pick the location




Avoid trees and shrubs due to roots and shade.
Pick an area that gets 6-8 hours of sunshine daily.
Have it close to the house for convenience.
Area should not puddle after a heavy rain.
Existing soil doesn't really matter since you will be planting above it.




B) The 3 Steps




Build a box.
Add Mel's Mix of 1/3 compost, 1/3 peat moss, and 1/3 vermiculite.
Add a grid & start planting




C) Follow the 10 basics




Layout- Arrange your garden in squares, not rows. Lay it out in 4'x4' planting areas. (Other arrangements can be used.)
Boxes- Build boxes to hold a new soil mix above ground. Soil should be 6" deep so use boards that are 6-8" high. You can build 4'x4' boxes, 3' x 3' boxes for kids, or any size that fits your area (but 4' or less across.) If you want a movable or deck box, attach 1/2-3/4" plywood to the underside and drill four drain holes.
Aisles- Space boxes 3' apart to form walking aisles.
Soil- Fill boxes with Mel's special soil mix: 1/3 blended compost, 1/3 peat moss, and 1/3 coarse vermiculite.

Grid- Make a permanent square foot grid for the top of each box. A MUST! (You can use wood lathe, old blinds, or string to mark a tic-tac-toe type design.)
Care- NEVER WALK ON YOUR GROWING SOIL. Tend your garden from the aisles.
Select- Plant a different flower, vegetable, or herb crop in each square foot, using 1, 4, 9, or 16 plants per square foot. If the package says to plant every 12 inches, plant one per square foot, package says 6", plant 4 per sq foot, package says 4", plant 9 per sq foot, package says 3", plant 16 per sq foot.
Plant- Conserve seeds. Plant only a pinch (2 or 3 seeds) per hole. Place transplants in a slight saucer-shaped depression. Cool crops (lettuce, cabbage, peas) can be planted April to May. Warm crops (beans, tomatoes, pumpkins) can be planted late May to early June. Plant cool crops again in August for a fall harvest.
Water- Water by hand from a bucket of sun-warmed water.
Harvest- When you finish harvesting a square foot, add compost and replant it with a new and different crop.