Tire gardens spreading throughout Haiti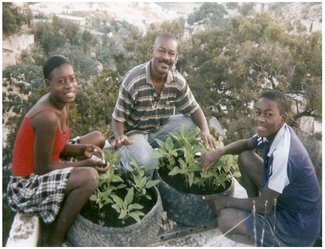 Miradieu Estinvil created the first TIRE GARDENS in Haiti in 1990 as an alternative to the basket gardens, and their popularity has spread throughout the country.

Another garden friend, Paul Fidelin Orelius is pictured with two friends and two tire gardens on a rooftop in Haiti in 2007. It is suggested to enrich the soil each time, but completely changing the soil after 3 usages. The units pictured are planted with amaranth spinach that looks healthy and is a green that Haitians enjoy. Also, tire gardens are often used for nursery plants.

To create a tire garden, with a sharp knife, cut the rim off one side, place a heavy duty plastic over the bottom hole large enough so that an inch or two stands up along the walls of the tire, and then take the piece you cut off, upside down, and place it inside the tire to hold the plastic in place. Fill with composted soil. The small indention of the tire on the bottom holds water, but is suggested to water every day. Happy Growing.
​
---
Vegetables that grow best in Haiti
​Gardening World Wide has been asked many times "What seeds do I take to Haiti?" Here is the list compiled from past practical experience in Haiti:

Beans Asparagus or Yardlong, Lablab, Kentucky Wonder, Black
Beets Egyptian, Detroit Dark Red
Brocolli Green Comet
Cabbage KKK Cross, Copenhagen
Carrots Chantenay, Danvers Half Long
Collards Vates, Georgia
Eggplant Oriental and Tycoon for small gardens
Leeks American Flag
Lettuce Great Lakes, leaf varieties, (Queensland from MN)
Mustard Florida Broadleaf
Okra Clemson Spineless
Onion Yellow Granex
Peppers Haitian Sweet, Haitian Hot, Sweet Banana
Pak Choy Joi Choi or Bok Choy
Radish Early Scarlet Globe
Swiss Chard Fordhook, Lucillus
Tomato Napoli, Roma, Outdoor Girl, Cherry
Turnip Purple Top, (Toyoko Cross Hybrid)
​
---
Letters from our friends in Haiti
Dula Estinvil on October 27, 2016
Haiti really needs aid, after the Mathew hurricane, it is raining for 4 days almost all day long in Pernier. They told in Radio almost all of Haiti in rain; you can imagine vulnerable families who need to look everywhere every day to feed little ones and stay 4 days home after the hurricanes. I do my best to help as many families as I can, even me, when you send Christmas fund for First Fruit, it will be helpful as we can do more aid.
I am little crazy on planting cause I understand clearly 25 to 30% food in Port- au- Prince come from South and Grand Anse Jeremie, food insecurity will be worse. I plant 200 banana plants or trees and lots of sweet potatoes. They start to grow, lots of Swiss chard, eggplants, leeks, onions, sweets pepper. I buy 200 US$ seeds, 1 pound of leeks, 1 pound of onions, cabbages. My dream this year is to plant all the land, I get ready, I have two new workers and I tell them to watch over the gardens until we have the fence in March 2017.
We have a team of 14, agronomists, technicians, educators. I am one of them. We start to collect seeds to help in the second phase of the disaster in the south. We think to help with goats and chickens, we collect corn, cereals, vegetables, fruit, forestry seeds to go to help them restart their agriculture. Maybe in December we are going there, we have a pastor friend who is from there, I will call Yvette's people too when I am going.

I leave you with Mother Teresa's words: We cannot do great things on this earth. We can only do small things with great Love.

Continue to pray for Haiti.
God bless you!
Dula Love you!
​
Yvette Papillon on October 29, 2016
I lost track of how many groups we have, all our projects have gardening.
We have chicken raising with local hens. They are good mothers and even protect their chicks from rats. Their excrements are precious in the gardens.
The groups have raising rabbits, and same as chicken, they produce good excrements. Beehives also encourage people with fruit trees.
Growing tomatoes, green peppers, onions, leeks etc gives beneficial supplements to the diets, but also to sell for good prices. The peasants say they get double money for their crops and more.
Lesly is the best teacher, then we have Fidelin, Leopold, Joel, and Loll.
We have some good gardeners among the priests. I heard that Fr. Gregoire is getting good even if he has a paralyzed arm. He just asked me for a pair of rabbits knowing it's the safest manure.
So even at 84 yrs old, I can enjoy teaching gardening. Joy to all gardeners.
I suppose Mel is watching the whole thing from heaven!
Yvette Papillon
---
Vegetable Production in Haiti
January 2015
Celidon Jean Antoine and his family live in the rural town of Gonaive in Haiti and have been promoters of vegetable gardens since we first met in Haiti in 1986. Today Celidon reports on 27 groups of gardeners totaling 806 families producing over $10,700 US in vegetables in January. ($12 US per family*) As seen by the pictures, Celidon is especially proud of the cabbages grown this past month; both in containment and in small gardens.The beets will be ready for Good Friday—a tradition in Haiti! CONGRATULATIONS Celidon!

Wilky Estinvil gardens in the Delmas area of Port-au-Prince and is the man we call upon to provide garden information to visitors in Haiti. This year he reports on 4 areas of gardeners, (Delmas + 2 areas in Port-au-Prince urban areas, and 1 in Mirabalais) totaling 173 families producing over $600 in produce value last month. ($3.50 US per family*) *Wilky's gardeners are working in small spaces near their homes; whereas Celidon's groups have access to large garden spaces in open areas. Wilky is shown with a gardener in Croix du Bouquet growing Swiss chard and at the AMURT School in Port-au-Prince with gardens in baskets.

Dula Estinvil hosted visitors from Roseville, Minn., Baptist Church in early January and they helped her install a nursery system over the 15' x 15' cistern top at the Messiah Agricultural site. This will help Dula grow stronger plants for the gardens. The group also helped with weeding and planting the gardens. Dula wrote, "This time I harvest lots of tomatoes from which I made tomato paste to last more than 6 months. Also, I share and sell lots of tomatoes, and now I have lots of sweets peppers." This site is growing as a teaching site and they welcome visitors every month.

---
Yvette Papillon writes from Haiti on May 21, 2013:

Hi good people:

Vegetables: You want to see some good veggies we received from our garden of Leogane? Leopold helped for this garden with 7 families. The owner of the land is Jonyton. He had a 4 years in development with Leopold in University but never had teaching in gardening. As our President considers it as the most important, Leopold went to many areas to teach gardening and we wrote a booklet to help them. Jonyton is so happy with the harvest: it's 3 times what he had before.

We gave a few tools to the workers: picquoir, spade and sissel. They used compost only. They just brought us a sample of their products: carrots, potatoes, corn on the cob. The cabbages, tomatoes, green beans are not ready and were not taken yet, next week. They gave us a lot of mangoes too. It's encouraging that, with a few tools and teaching, those people made a terrific harvest, and they continue.

Father Celestin was here too on Monday and has a terrific harvest of tomatoes and potatoes, green beans. corn, etc. All of this is due to a few tools. It gives a wonderful augmentation of food. He worked with 7 families too. Those families will help with their profit to get tools for a few more families. Those have the square foot technique and make food all the time. They got a good cistern of 4,000 gal or more so they have a nursery with plants at all times to transplant.
---
---